---
Key Factors About Our Horses...
They are raised in the rugged Texas Hill Country, so they know how to run in rocks, hills, and through running streams.
They have a strong physical constitution, with excellent legs, feet, lungs and heart!
We breed for a willingness to please, which will allow them to make a best effort to perform whatever "sport" or work that their owner could ask of them. This also makes them easy to train since they are smart and want to work.
Concert horses have proven to make excellent "Sport Morgans": and have excelled in cross country, endurance, combined driving, jumping, dressage, western performance (reining champions), as well as the less rigorous pleasure show ring and always excel as loving companions.
They have the finest Morgan bloodlines, combining true Morgan beauty with proven athletic ability.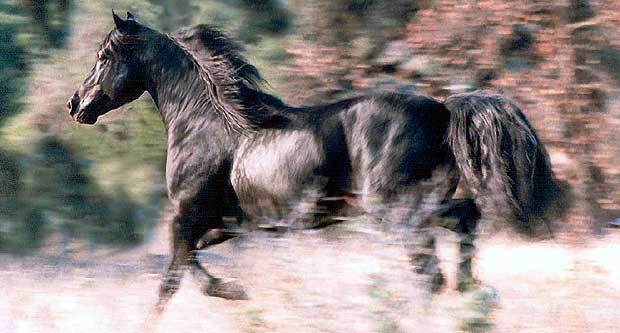 ---
Concert True Brit
A gorgeous red chestnut Morgan stallion and sire of Streaker and Surprise.
---

---
All of my Morgans that have had the opportunity to show in the Morgan ring, or compete in all breed events (youth rodeo, cross country, dressage and jumping) have been successful up to and including National titles. Many have also been very successful as youth horses as well as for older riders, which is another testimony to their willing temperament.

---

Concert Poncho Villa

(sire: Concert Indigo Moon x dam: Rehoboth Violetta).
DOB: March 7, 2007


Concert Poncho Villa is growing into an attractive, large, Red Bay gelding. He is a horse with substance, and his size and natural athletic ability (the way he moves) could make him an exceptional Morgan Sport Horse prospect (jumping, dressage, combined training, endurance). Although both of his parents are bloodtyped/DNA qualified, Poncho has not yet been registered. He is very curious and wants to be given attention.

Available for $1600

---

Surprise
(sire: Concert True Brit x dam: Concert Blue Jean)
DOB: July 2007

A strikingly attractive, dark chestnut filly born sometime in mid July I had no idea that Jeanne was bred. While driving home past the horse pasture, I thought that I saw a new tiny horse in the pasture, but, I thought it must be just small because it was so far away. A few days later, Jeanne brought her "surprise" close to the fence line on the road, and discovered that I had a new addition to the herd. Jeanne is a gorgeous mare that had done very well at the local Morgan horse show in late April, I had no idea she was pregnant. "Junior", the sire to "Surprise" is an extremely handsome red chestnut, that looks just like his sire Concert Celebrity, formally known as "Brit". Brit is pictured on the web page, he is the black bay winning in hand and pulling the carriage.

She reminds me of her Greatgrandmother, Windy Hill Symphonie. The mare is very thick bodied and round all over, so beautifuly Morgan. She is very sweet and wants affection. I think that she may be close to 14.1 hh.

Available for $3000

---

Concert Java Moon
AMHA # 0175889
DOB: November 16, 2005
CLICK HERE FOR PEDIGREE

Out Of: Concert Blue Jeans "Jeanne" (Fuzzy daughter out of Concert Debut). - This is her first baby.

Java looks like she is going to be a perfect pony sized Morgan with every attribute a Morgan is supposed to have.

This photo was taken 29 Nov 2009 and shows her dark (nearly black) round body, and pretty face. She is always the first one to come up for attention. She also has beautiful strong hoofs and clean legs. She has been ranch raised on rough ground. Due to her petite size, I think she would make an ideal first time Morgan for a youth, or and ideal pony driving sport horse.

Available for $4500

---

Concert Desire
AMHA # 0175616
DOB: March 6, 2006
CLICK HERE FOR PEDIGREE

Concert Dorothea and Concert Indigo Moon (aka: Fuzzy) had a solid, Dark, Dark, Brown filly that we call "Desire". She is nearly a perfect match to her half sister, the adorable Concert Java Moon (Concert Indigo Moon x Concert Blue Jean). Desire is a VERY sweet girl and she is eager to please and quick to learn. She would make a good choice for someone wanting their first Morgan. Our mares have exceptionally kind dispositions and all of the Fuzzy babies are built right to make exceptional athletes.

This filly is getting more elegant as she matures. She will turn some heads with her Morgan beauty.

Available for $4500


---

Concert True Blue Streak
AMHA # 175617
DOB: September 27, 2006
CLICK HERE FOR PEDIGREE

Concert True Blue Streak, aka: "Streaker", This is the baby we've been waiting for, the first offspring of Concert True Brit, our exquisite, chestnut, junior stallion who was sired by Concert Celebrity. He bred the athletic Concert Serenata, a gorgeous bay Brit daughter. The result of our patience was generously rewarded with "Streaker". This is the most gorgeous baby I've ever seen of any breed. He is turning a dark, dark, liver chestnut. He has a complete blaze and his MOST UNUSUAL feature is a crystal blue streak in the lower part of his right eye. He has huge eyes and tiny ears. He has personality to burn, and a superior look about him, which is due partly to his long neck that sits right on top of his swept back shoulder. He has more muscle than any baby his age, ever born to my herd. He is simply breathtaking.

Streaker has grown up into a gorgeous red horse and he is getting most of my attention right now since he lives right behind my house. Streaker was started in harness by the Amish at their Equestrian Educational Ranch and Horse Training Center,in Mathis TX. They drove him 60 miles per week, to town, to school, to church, to the store etc. He is the absolutely the sweetest young Morgan stallion I have ever handled. (Fuzzy is sweet, but he is fully mature). I would only part with him (private treaty) if he went to a serious Morgan show home.
---
Catherine Tull-Linton, D.V.M. | Homeopathic & Holistic Practitioner
8721 CR 336 | Sabinal, TX 78881
(830) 988-2335 - Home | Email: ctull@concertbrass.com