Other Animals

Concert Brass is home to a diverse group of God's creatures, both wild and domestic.  With a spring fed creek on the ranch, named "The
Little Blanco", you would expect to have  wildlife live here for refreshment.  In addition to the native Texas wildlife, and this includes our share of sightings of Mountain Lions, the ranch supports an assortment of domestic species. 
I started my poultry collection with the ubiquitous chicken, and a few guineas.  Of course, there are so many unusual chicken breeds to test and see which ones do best free range here. 
A few years ago, I added some Embden geese and they have really multiplied.  They love to swim in the creek and splash in the big rainwater catchment pond.   Later, the ducks followed the geese, and I picked out four hens and a drake.  Two of the ducks sport a puff of head feathers called "crested" ducks. 
The Jersey cow experiment started in 2015, so that I could have my own butter.  I make goat cheese with my dairy goats, but goat butter is hard to harvest, since their milk is so naturally homogenized.
Recently, I have added meat rabbits and crossbred Dorper sheep to the list.  To my surprise, the rabbits have proved to be the least problematic of all the domestic species I have worked with, and they are definitely the most quiet.  The sheep, however, are VERY noisy, they must have taken tips from the geese.
With so many vulnerable prey species, it is advantageous to hire a few Livestock Guardian Dogs.  I have two Great  Pyrenees guardians, one to protect the small ruminants across the creek, and one at home for the poultry.  I have a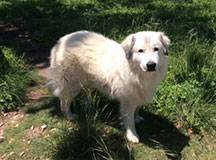 German Shepherd for my personal guardian inside my home, she goes everywhere with me.   She has killed over 25 raccoons in her career, as it is her passion to go to war with varmints (the poultry LGD, is better at barking than attacking predictors.). Having a secure area to place your livestock at night, is the first defense in protection.
Photo of bull snake - Here is a Bull Snake that I shot in my attic late at night.  The snake was trying to get my chickens that insisted on roosting on the steps to my attic.  It measured 8 feet.